Hundred Yellow Ribbon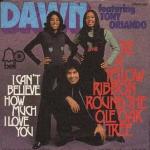 In 1973, Irwin Levine and L Russell Brown's "Tie a Yellow Ribbon Round the Ole Oak Tree" was released by a band referred to as "Dawn featuring Tony Orlando" — for contractual reasons that have never been very clear to me. It eventually became Tony Orlando and Dawn, with "Dawn" apparently being Telma Hopkins and Joyce Vincent Wilson, even though that was not originally what the band name had meant.
At this point, "Tie a Yellow Ribbon Round the Ole Oak Tree" is kind of a joke song — something for Las Vegas crooners to emit from the silk and amphetamine. As usual with this kind of song, the very things that made people first love it — it stayed at Number 1 for a whole month — is what people now hate about it. Story songs tend not to hold up well over time anyway. And this one is overwrought, regardless. "Bus driver, please look for me; 'cause I couldn't bear to see what I might see…" And then the final payoff, "A hundred yellow ribbons 'round the ole oak tree!" It doesn't help that Tony Orlando looks like a guy every woman in America regrets having had a one night stand with.
But I think it is a brave tune. It is about a man coming home from prison after doing hard time — three years inside, which means he was probably given ten years. That's bank robbery time. Or possession of a joint in 1970. But it shows a laudable act of love on the on the part of the girlfriend. A hundred yellow ribbons seems a bit excessive, but then a simple letter would have destroyed the whole conceit of the song. In "Stand By Your Man, " Tammy Wynette implies that a woman should look past all manner of abuse thrown her way "that you don't understand." But in this song, the woman is standing by her man in a mature way. You don't allow a man to walk all over you, but you also don't expect him to be perfect. So you get down to the important business of decorating that ole oak tree.
Afterword
The down side of this is that Tony Orlando has been a big booster for "yellow ribbon" campaigns for soldiers. There's nothing wrong with that, but it does indicate that he wants to distance himself from the actual content of the song. He also hangs out with Christian conservatives on show like Huckabee and The 700 Club.
You might also like
YELLOW RIBBON / "CINTAS AMARILLAS" POR LOS CINCO. ¡BASTA YA!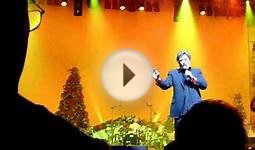 Tony Orlando-Tie A Yellow Ribbon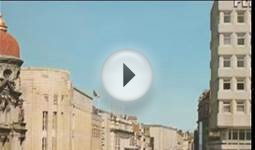 101 Strings - Tie a yellow ribbon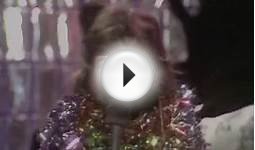 Tony Orlando & Dawn - Tie A Yellow Ribbon Round The Ole ...
Jillson Roberts Bulk 1-Inch Double Faced Satin Ribbon, Yellow, 100 Yard Spool (BFR1012)


Office Product (Jillson Roberts)




Sunny yellow satin ribbon ideal for a wide variety of special occasions; adds a lush finishing touch to any gift
Each bulk spool contains 100 yards of 1-inch-wide ribbon
Ribbon is premium double faced with a traditional woven edge for exceptional drape and ease of tying; available in 22 gorgeous colors
Unlimited creative uses for gift wrapping, party décor, sewing applications, crafts, weddings, flower arrangements, seasonal and holiday decorations
Jillson Roberts offers a beautiful selection of environmentally sensitive wrap for a wide range of occasions, wine and gift bags, tissue, curling ribbon, Tyvek designer...
Yellow Curling Ribbon, 100yds


Kitchen (Unique Party Favors)




1 roll of Yellow Curling Ribbon
Each roll contains 100yds of Yellow Curling Ribbon
Add the finishing touch to any package with this Yellow Curling Ribbon
Use this ribbon for crafts as well
Coordinate with other gift wrap supplies from Unique
Berwick 2-3/4-Inch Wide by 100-Yard Spool Flora Satin Craft Ribbon, Yellow


Art and Craft Supply (Berwick Offray, LLC)




2-3/4-Inch Wide Ribbon by 100-yard Spool
Made From 100-percent Polypropylene
Available in a Variety of Colors
Great for crafters, florists, wedding and party planners, scrap bookers, homemakers, and decorators

SUPERNIGHT (TM) 16.4FT 5M SMD 5050 Waterproof 300LEDs Yellow LED Flash Strip Light ,LED Flexible Ribbon Lighting Strip,12V 60W


Home Improvement (ebestrade)




Brand: SUPERNIGHT
This 5050 SMD, 300 LEDs , Much brighter than Double Density 600 3528SMD
LED Type: High Quality 5050 SMD LED, high intensity and reliability
Easy and Flexible installation. Ideal for home and business light decoration
Self-adhesive back with Adhesive tape for secure and easy application

Greatlookz Extra Large Grosgrain Ribbon Bow Set of 5 (Yellow Set)


Apparel (Greatlookz)




Greatlookz Fashion now offers a hair bow of the month club, a must for any unique gift
This is a custom set of 5 beautiful extra large grosgrain ribbon hair bows
What makes this a perfect fit is the large alligator clip on the back side
These extra-large grosgrain ribbon bows are perfect for women of all ages
If this is not the perfect hair bow you are looking for then search our listing for more custom styles