Beyond the Yellow Ribbon Blaine MN
Blaine will receive its Yellow Ribbon Community designation from Gov. Mark Dayton Thursday, May 17, during a St. Paul Saints pre-game ceremony.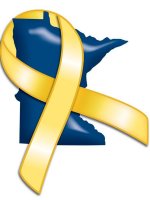 The proclamation ceremony will take place at 6:45 p.m., prior to the start of the St. Paul Saints home opener at Midway Stadium, 1771 Energy Park Drive.
Blaine is being honored with the Yellow Ribbon designation for building its community support network to help local military service members and families.
Last April, Blaine held a kick-off meeting to begin the process for becoming a nationally recognized Yellow Ribbon Community. More than 50 community members and leaders attended that meeting to learn about Beyond the Yellow Ribbon (BTYR) programs. Mayor Tom Ryan is spearheading the city's effort.
Beyond the Yellow Ribbon cities are asked to draft a sustainable action plan, which is submitted to the Minnesota National Guard for review and Dayton for final approval and issuance of an official proclamation.
The program supports military families by connecting service members and their families with community support, training, services and resources to assist them during deployment. There is no cost to participate in the program.
Over the last several months, the Blaine Beyond the Yellow Ribbon Steering Committee has worked to develop a sustainable, organization-specific action plan that outlines how the Blaine community will support its service members and their families.
Some of the key components of the action plan entail building a database of volunteers and businesses to help with assistance requests, holding monthly meetings, organizing an annual welcome home event for all Blaine service members and their families, awareness training for police officers and other city employees and creating a resource list of community support efforts.
St. Paul, Suburban Ramsey County, West St. Paul and Hennepin Technical College will join Blaine in receiving Yellow Ribbon designations.
Blaine's Beyond the Yellow Ribbon Steering Committee meets the third Monday each month at 6 p.m. at Blaine City Hall, 10801 Town Square Drive N.E.
Membership on the committee is open to anyone interested in learning more or becoming involved.
If you are a service member or family of a service member and have any questions, needs, or are interested in volunteering in any way with the program, contact Rebecca Olson at 763-785-6120 or [email protected].