Yellow Ribbon Project review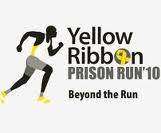 Changi, Sunday, September 5, 2010 — Despite of the heavy downpour 7, 600 runners came and took part in the second edition of the Yellow Ribbon Prison Run in support of the reintegration of inmates and ex-offenders. – unlocking the second prison
Into its second year of the run, the Yellow Ribbon project started in 2004, it is an initiative in Singapore that aims to create awareness of the need to give second chances to ex-offenders, generating acceptance of ex-offenders and their families in the community, and inspire community action to support the rehabilitation and reintegration of ex-offenders into society.
This was my first time taking part in the event, and judging the feedback from last years event; this is one of the best well executed and planned out event and something not to be missed. I entered in the 6.5km category this time around as it was still during the fasting month.
This year about 6, 000 runners opted to donate to obtain Yellow Ribbon Shoelaces when registering for the run, with all proceeds going to the Yellow Ribbon Fund.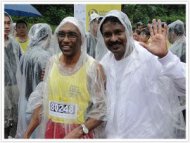 Many turn up in their yellow event tee and wore the yellow shoelaces that represents the community's support for ex-offenders who sincerely want to change and successfully reintegrate back to society.
Organizer gave out poncho to the participants who were present to bravely take on the challenge for the good cause despite of the bad weather. The event open with a symbolic ceremony where participants pushed the blocks to the front of the stage, with the VIPs pushing the blocks into the shelf symbolising the various aspects that CARE Network plays a part in the rehabilitation of inmates.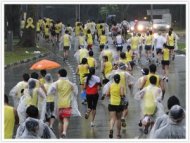 The unique running route took runners past several historical sites in the Changi area, including Johore Battery, Changi Chapel Museum and Old Changi Prison Wall before entering the conserved old Changi Prison Gatehouse that leads to the finish line at the new Changi Prison Complex.
A total of $110, 000 was raised from the run for the Yellow Ribbon Fund.
It was once again a well organize run although I feel that the run could be organize on a non-fasting month so that more Muslims could take part in this symbolic, charitable and enjoying run.
You might also like
Btime Men's Fashion Breathable Lace Denim Canvas Shoes(8D(M)US,dark blue)


Shoes ()




Breathable leather lining, prevent the foot smelly
Wear-resisting
Slip Resistant
Handsome guy s first choice

TJie Art Hand Painted Mordern Oil Paintings Wall Decor Lily Flower Clouds Home Landscape Oil Paintings Splice 3-piece/set on Canvas


Home (TJie Art)




Size:40x40CMx2, 25x70CMx2
A perfect wall decoration for living room and bed room. Paintings reproduction,Canvas print,stretched with wooden frame on the back. Ready to hang.
painted by professional artists with years of oil painting experiences. Hand-painted high quality canvas oil painting. A nice gift for your relatives and friends...
Each piece is custom made.
Materials/Milieu:high quality Thick Canvas, high quality oil or Acrylic colors.