Beyond the Yellow Ribbon events and deals
The following events are created by, or selected for, both military and non-military families in southeast Minnesota. Event key:
Military families/Veterans only can register for this event
General public event, but registration requested
Outside event recommended for Military families
Recommended general public event / no registration necessary
Events and Activities List
Rochesterfest Grand Parade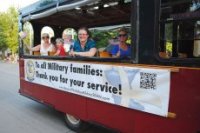 Beyond the Yellow Ribbon Southeast Minnesota is looking for Military families who will "float" with us in the Rochesterfest parade on Friday, June 26th. Our parade entry "float" is once again a Rochester Trolley Car and we still have room for 20-25 people to ride with us!
All registered Military families will meet at Crossroads Shopping Center parking lot, just west of Chipotle Mexican Cuisine. We will load on to the trolley to be transported to the parade start at Soldier's Field park. Note: Instead of handing out candy our families will be handing out small American flags along the parade route.
The event will last from 4:30PM to roughly 7:30PM and our place in the parade is near the front. Military kids can walk along the Trolley Car or ride and wave.
Veteran's Afternoon at Rochester Honkers Baseball
The Honkers square off with the Thunder Bay Border Cats in an afternoon game filled with excitement and fun! This game is free to all Veterans who register here, and up to four tickets per Veteran are available.
Calendar Listing
Military families can use this quick view of upcoming events, and volunteers will see meeting dates and activities related to the volunteer administration of Beyond The Yellow Ribbon Southeast Minnesota.
Photo release
By registering for any event, please know that you give explicit permission for your likeness, and the likeness of any and all persons attending with you. Beyond The Yellow Ribbon Southeast Minnesota may use these for its web site, social media sites and/or marketing materials and articles. We will always use our Chairperson if you have further questions.