Yellow ribbon around neck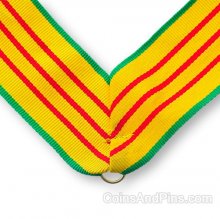 Click to enlarge
Price:
$1.49
Availability:
In Stock
Model:
di-cp-rib-v-ryg Do you like it? Please click it and share:
Fabric neck ribbon you can use for awards. Attach to our coin bezels to turn a coin into an award. Ribbon is 1.5" wide. The unassembled length is 34" long and the assembled length is 17". The ribbon will fit over a bun in a females hair as long as it is in military regulations. Comes complete with bronze jump ring to attach to a medallion, key ring, or bezel.
This ribbons' colors match the Vietnam colors, making it a suitable ribbon for presenting Vietnam awards.
You might also like
Blueberry Pet 3/8-Inch The Ultimate Macaroon Cake with Spring Pastel Hues Basic Polyester Nylon Dog Collar, X-Small


Pet Products (Blueberry Pet)




X-Small Width 3/8 , Neck 6-10
Made of a tough grosgrain ribbon sewn on to a high density gold yellow nylon webbing
This collar is a single product. However, it comes with matching leash/harness to complete the look. Leash and harness sold separately
Picture was taken from a size Medium (Width 3/4 , Neck 14-20 )
PettGo™ Retractable Dog Leash Belt Style, for Large Dogs, up to 88 Lbs. (Blue)


Pet Products (PettGo™)




Comfortable ,Easy to Grip Ergonomic Handle
High Quality, Upgraded Lock and Brake Mechanism
Will NOT burn your skin when gets tangled around your legs
Easy use, attaches easily to any standard collar
Blueberry Pet 3/4-Inch Spring Heart and Mushroom Blossom Basic Polyester Nylon Dog Collar, Medium, Pink


Pet Products (Blueberry Pet)




Medium Width 3/4 , Neck 14-20
Made of a tough grosgrain ribbon sewn on to a high density gold yellow nylon webbing
This collar is a single product. However, it comes with matching leash/harness to complete the look. Leash and harness sold separately
Picture was taken from a size Medium (Width 3/4 , Neck 14-20 )

Dogit Style Aloha Large Adjustable Nylon Collar with Plastic Snap and ID Plate, 3/4-Inch by 16-Inch- 22-Inch, Blue


Pet Products (Dogit)




Adjustable Nylon Collar with plastic snap; Durable
Smart collar construction
Matching leashes available (separately)
Measures 3/4-inch width and adjusts from 16-22-inch around
Aloha Design, Blue Nylon