Singapore Prison Yellow Ribbon Project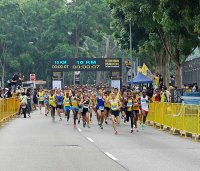 Sunrays weren't the things that filled Changi Village with golden yellow on 15 September. Almost 10, 000 runners clad in the familiar yellow singlet tops crowded around the start point at Changi Village, ready to make a difference. Welcome to the 5th Edition of the Yellow Ribbon Prison Run! YRPR'13 also marks the 10th Anniversary of the Yellow Ribbon Project in Singapore. It is definitely heartening to see our community step forward to support this meaningful cause of helping ex-offenders unlock their second prison.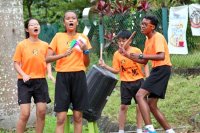 Runners were charmed by the robust logistical support, as well as meticulous arrangements made by the organisers. The operations were nothing short of efficacious. The organisers definitely understood what it means to build a wonderful administrative base, so that runners can have a smooth and enjoyable race. The baggage deposit was well-orchestrated and the shuttle services provided were abundant. And I mean, really abundant. The shuttle buses just kept people moving! Medical aid and hydration were more than ample. If we had a national award for best race organization, this race would prove to be a really fierce contestant!
But the success of races is not always marked by organization alone. The cause was deepened by many well-meaning volunteers who came forward to make the race experience a pleasant experience. I think everyone felt sincerity in the air that morning.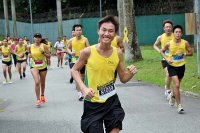 We were not just there to witness another successful event. There was almost this shout out of "Hey, I am here for you." And I think that is what the Yellow Ribbon Race is all about.
The challenging route with numerous up-hills was made smooth and safe by the Prisons Cycling Team. And when the going got tough and you felt like stopping to walk, the energetic and vibrant student cheerleaders from various schools encouraged you to push on and to finish strong. And to be frank, I really appreciated the unrelenting cheering efforts of the young ones. When the going gets tough, everyone will welcome a boost signal of courage.
After running past an array of historical and prison sites like Changi Women's Prison and the Johore Battery, I reached the End Point in the Changi Prison Complex and was greeted by the Carnival's bustling atmosphere.
You might also like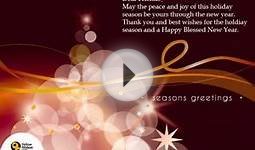 Performing Arts Centre Yellow Ribbon-Feliz Navidad Medley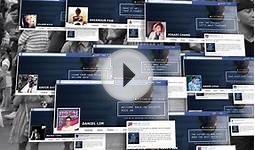 Yellow Ribbon Project - Unlock the Second Prison
12 Quantity Amber Mini LED Lights Waterproof Submersible Party Wedding Decor Decoration for Centerpieces Balloons Floral Arrangements String Strand New Years Eve Fat Tuesday Mardi Gras
Home Improvement (BlueDot Trading)
These waterproof, submersible, LED mini lights are great for lighting balloons, paper lanterns, centerpieces, floral and other decorations.
Make all kinds of wedding, event, & party decorations.  The only limitation is your imagination!  Fantastic for all kinds of craft projects.
Each light has a hole opposite the light end, so lights can be strung or securely attached to your craft project or helium balloon string or ribbon.
Easy to operate ~ unscrew lights and remove protective plastic disc (lights have small plastic discs inside to prevent batteries draining prematurely), then screw...
Last 8 to 24 hours on one set of batteries, often longer. Powered by three (3) AG3 batteries (included), which are replaceable