Yellow Ribbon Project Dog Leashes
When you're out on a walk, does your dog sometimes need to stay away from other dogs? If you saw a yellow ribbon tied to the leash of a dog, would you proceed with caution and give the dog some space? This is the hope of a Yellow Ribbon campaign we discovered on the Pit Bulls: Lost/Found/Missing/Stolen group on Facebook.
Reasons a dog might need "space" are listed, and the goal is to let people know not to approach the dog. Perhaps your dog is in training, has health issues, or had a bad experience around other dogs with behavior problems. Whatever the case, the campaign is designed on the principle of respect. That is: My dog needs space, so kindly respect it.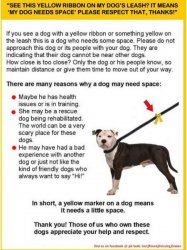 Perhaps this is something that needs to catch on. The "Yellow Dog" campaign website points out this ribbon is useful for owners of male dogs not to bring their animals close to female dogs in heat. The campaign has an accompanying Facebook page.
We're a little concerned that dissenters might see the ribbon as a "warning" notice that might fuel the "bully breeds are dangerous" mindset.
My belief leans more toward "all dogs should have space, " and please do ask before you pet my dog. I particularly appreciate it when small children ask me first before petting my dog. My dog looks like a walking stuffed animal, which can be a blessing as well as a curse. It takes an hour to get through the pet supply store (which can be a lot of fun) but only because we meet so many people. At times I wonder whether a yellow ribbon might be useful.
Apparently a red ribbon on the tail of a horse is a warning that it might kick, so people are advised to keep their distance. I discovered that while doing research for this piece. Did you know that?
Some dogs are timid in public, particularly if they have been abused, so the yellow ribbon might be a warning to stay back and let the owner work on the timidity at a measured pace.
You might also like
Ampelco Ribbon Company Chevron Printed Grosgrain Ribbon, 7/8-Inch by 30-Yard, Yellow/White


Art and Craft Supply (AMPEC)




0.875 inch by 30 yards
100 percent polyester
Ampelco Ribbon item number: 146-60032
7 Different Colors Available; 2 Different Widths Available
Ideal for designing fashion and hair accessories, clothing, gift baskets, gift wrapping, sewing projects, trimming textiles and linens
Double Face Satin Ribbon YELLOW 1 1/2 inch x 5 yards


Art and Craft Supply ()




A FANTASTIC DEAL FOR YOUR SEWING & DECORATING NEEDS!
This ribbon will make BEAUTIFUL bows to decorate your craft projects.
Make party favors & wedding decorations. Make beautiful HAIR BOWS!
Double Face Satin Ribbon. 1 1/2 inch x 5 yards. If more than one of this item is purchased, ribbon will be shipped in one continuous piece.
Washable, Soft, Silky, and Color Safe. Visit MAPLE CREEK COMPANY Storefront for more colors and sizes.
Venus Ribbon 1 3/16-Inch by 1-Inch Iron On Dancing Fish Applique, Red/Yellow/Multi, 5-Yard


Art and Craft Supply (The Jay Company)




1 3/16-inch by 1-inch iron on dancing fish applique
4-piece per pack
Red/yellow/orange/hot pink

Ampelco Ribbon Company Double Face Satin Ribbon Company, 1-Inch by 27-Yard, Yellow


Art and Craft Supply (Ampelco Ribbon Company)




1-Inch by 27 yards
100-Percent polyester
Ampelco Ribbon item number: 150-25032
50 Different Colors Available
Ideal for designing fashion and hair accessories, clothing, gift baskets, gift wrapping, sewing projects, trimming textiles and linens

YELLOW Grosgrain Ribbon 1 1/2 inch x 5 yards


Art and Craft Supply ()




A FANTASTIC DEAL FOR YOUR SEWING & DECORATING NEEDS!
This ribbon will make BEAUTIFUL bows to decorate your craft projects.
Make party favors & wedding decorations. Make beautiful HAIR BOWS!
1 1/2 inch x 5 yards