Yellow Ribbon Project PDF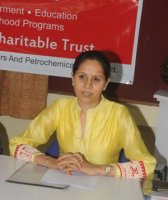 MUMBAI: Ishanya Foundation, the Corporate Social Responsibility arm of Deepak Fertilizers & Petrochemicals Corporation Ltd., announced its 7th edition of annual pre-Diwali "Yellow Ribbon NGO Fair". More than 100 NGOs and Self Help Groups (SHG) from across Maharashtra and other parts like Karnataka will be participating in the 'Yellow Ribbon NGO Fair' to exhibit and sell their unique products.
The four day fair will be held from October 09 to October 12, 2014 (Thursday to Sunday), at Lower Ground Level, Arcade 1, Ishanya Mall, Airport Road, Pune.
This year's fair is crafted and conceptualized to promote Social Entrepreneurship. Having contributed her efforts in Women Empowerment, the 7th Yellow Ribbon NGO fair will be inaugurated at the hands of Ritu Chhabria, Managing Trustee – Mukul Madhav Foundation in the presence of Parul Mehta, Trustee – Ishanya Foundation.
On the occasion Mrs. Parul Mehta, Trustee, Ishanya Foundation quoted "We at Ishanya Foundation are humbled by the success and response shown by the public over Six years for Yellow Ribbon NGO fair. The support from the people has been a major boost for the NGOs & SHGs to participate in the fair"
Also Read: Nominate Your CSR Project for IndiaCSR Awards
"We are extremely delighted to support the NGOs and SHGs to be self-sustainable. I am grateful to the members of Ishanya foundation for their constant support in this endeavor. We look forward for many more fruitful years for Yellow Ribbon NGO Fair" added Mrs. Parul Mehta.
The fair provides a platform to the NGOs and the SHGs to showcase and sell their products. It is a part of income generation activity which also helps to generate awareness about their work.
It provides them a unique opportunity to learn, share, network, and generate new ideas & awareness about the marketing trends with the urban and rural market. It also gives an exposure of the rural NGOs/SHGs with the urban market and customers.
In order to further encourage their endeavor, this unique concept conceived by Ishanya Foundation and supported by NABARD has instituted cash prizes to empower their skills. Cash prize of Rs. 50, 000, Rs. 30, 000 and Rs. 20, 000 will be given in 3 categories for the Best Stall. Food stalls will be rated and the best rated stall will receive cash Prize of Rs. 5000.
You might also like
Kel-Toy Double Face Satin Ribbon, 7/8-Inch by 25-Yard, Lemon Yellow


Art and Craft Supply (Kel-Toy Inc)




Available in 42 beautiful colors
Perfect for crafts, sewing and floral projects
Made of 100% Polyester
Colorfast- will not fade or wash out