Yellow Ribbon Project posters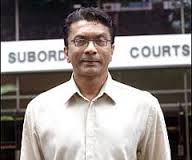 The Yellow Ribbon Project (YRP) aims to engage the community in giving ex-offenders a second chance, something I'm sure we are all quite familiar with. Recently, there have been many Yellow Ribbon Project posters all around the bus stops in Singapore and they all feature beefy, tattoo-covered men.
I could not find a recent poster but here is one that was used previously:
I'm all for giving people a second chance but personally, I feel that these posters give people the wrong impression that all offenders look like this. It perpetuates the person prototype (of an offender) that all of us subscribe to. What about educated ex-offenders who committed white collar crimes? Or those who are female?
Ex-offenders like T.T Durai (pictured above; former CEO of NKF who was charged with corruption and jailed for 3 months) look nothing like the pictures depicted in the YRP posters. Instead, many of these ex-offenders are educated and hold trusted positions in society. For example, the 32 year old female Chinese language teacher who was charged for having a sexual relationship with her 15 year old male student.
This makes me wonder if the treatment we give to these two groups of ex-offenders (typical-offender-person-prototype vs. no-way-he/she-could-have-been-an-offender!!!) differs in any way. Are we more willing to give tattooed men a second chance because of the campaign posters? Or are we more willing to give unlikely-looking ex-offenders a second chance because they look just like the rest of us?
Personally, I think I would probably be more accepting of the unlikely-looking ex-offender because the stimuli I pick up from the other group of ex-offenders (like tattoos and piercings) would immediately cause me to shy away from them. It would be hard for me not to follow the "Stay away from dangerous people!" Script that everyone follows.
Even though they might have completely changed for the better and show a great, positive attitude towards learning and rejoining society, I believe most people would miss this and focus instead on their outlandish appearance. This would cause us to commit errors in perception because we have omitted critical information (like their overall change in attitude) as well as oversimplified the situation (all tattooed men are dangerous).
On the other hand, ex-offenders who look like the average person would not have to overcome this "perceptual error barrier" like their scarier looking counterparts. They will have a much easier time assimilating back into society.
Perhaps it is because of how often we overlook the scary-looking ex offenders' change in behaviour, and focus instead on what they look like, that the YRP campaign posters zero in exclusively on them. They definitely need more help in getting accepted!
You might also like
Kel-Toy Double Face Satin Ribbon, 7/8-Inch by 25-Yard, Lemon Yellow


Art and Craft Supply (Kel-Toy Inc)




Available in 42 beautiful colors
Perfect for crafts, sewing and floral projects
Made of 100% Polyester
Colorfast- will not fade or wash out