She Wore a Yellow Ribbon 1949 poster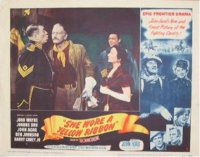 "She Wore a Yellow Ribbon", 1949
ORIGINAL Vintage lobby card movie poster
Starring John Wayne
1949 - ORIGINAL lobby card from this John Wayne classic! Stunning images and artwork!! My favorite card of the set. To see this card in person is even better. The graphic of John Wayne, his facial expression, his uniform, his gray hair is quite striking! Excellent + condition.
$395
1949 - Another stunning lobby card from this Wayne cavalry classic! Slight crease down middle, but still a stunning card and border art!
$295
1949 - Original lobby card with Wayne and his troops. As all other cards from this classic title, the graphics and artwork is exceptional, including the stunning border art!! One of my favorite vintage movie poster art titles in 25 years of collecting.
You might also like
She Wore a Yellow Ribbon Movie Poster (27 x 40 Inches - 69cm x 102cm) (1949) -(John Wayne)(Joanne Dru)(John Agar)(Ben Johnson)(Harry Carey Jr.)(Victor McLaglen)
Home (MG Poster)
She Wore a Yellow Ribbon Poster (27 x 40 Inches - 69cm x 102cm)
The Amazon image is how the poster will look; If you see imperfections they will also be in the poster
Full Size Movie Poster; Same Size That You See In The Theater
Size is provided by the manufacturer and may not be exact
Packaged with care and shipped in sturdy reinforced packing material