She Wore a Yellow Ribbon meaning Arsenal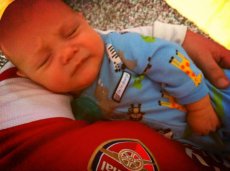 First, I am a middle-aged American, so I am always the little brother, I suppose. Never to be a Proper Gooner, at least by the old meaning of the term, never to stand on the North Bank. And despite being an avid sports fan and playing the game, that's fine. As a result, this isn't a story about my first trip to Highbury, or a lofty tale about away boys on the terraces in the 80s, or some distant memory of watching Pat Jennings or Charlie George from my Dad's lap. This is, however, a story with the same net result, be it plastic or proper. It's a story of love and passion for The Arsenal. And in the end, it's a story about my sons watching Jack Wilshere and Theo Walcott from my lap every weekend morning.
For me it started when I needed a pair of workout shorts sometime in the early 90s and found a pair of Arsenal shorts I thought were cool. I just liked the name, that's it, pretty boring and silly, I'm aware. When you come from a place where it's Braves and Falcons and Hawks, Arsenal sounds awesome. From there it was a random CL match aired on ESPN 2 long before the Premier League was on American TV.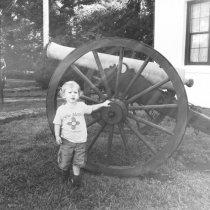 I'd look for Arsenal when I randomly saw the table because it was the only team I knew, or I'd remember the shorts when I heard the names of Thierry Henry or Dennis Bergkamp, who were big enough stars to cross the Atlantic. Then I grew up, got a job, and got married with 'soccer' always on the back burner to Super Bowls and World Series.
Then I had my first son and it started to change. Then I had to get up with said son on the weekends and was looking for something interesting on TV in the mornings. I decided English Premier League on Fox Soccer was better than any kid's show. Then I remembered those stupid old pair of shorts and tried watching only Arsenal matches. For every sport I enjoy, I watch one team and one team only. I guess I just enjoy knowing a lot about one team and seeing their pursuit through a season.
Then I saw the since maligned Robin van Persie tally a hat trick against Blackburn—just two short seasons ago—with my son on my lap. That was that. That match was the turning point. I know a 7-1 drubbing of a side destined for relegation isn't exactly winning the league at Old Trafford, but that was the tipping point for me. I remember my son, who was just learning to talk, singing 'We Love You Arsenal' at 8 in the morning. I remember him figuring out the cannon meant Arsenal on that cold winter morning. It will always be etched in my memory as one of the first sport-related things I shared with my son. Not the MLB Braves or NFL Falcons, who I have been watching since I was his age, a club thousands of miles away. The Arsenal.
You might also like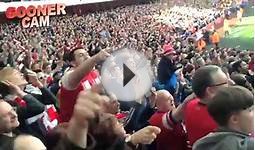 Arsenal 4 Everton 1 - Fans Go Crazy As Arsenal Head To Wembley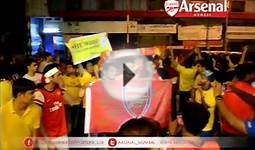 Arsenal Mumbai FA Cup Post Match Celebrations PART 1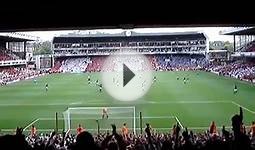 One Nil to the Arsenal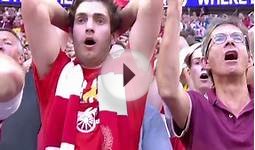 Arsenal - FA Cup Final 2014 - The Champions
John Wayne-John Ford Film Collection (The Searchers Ultimate Edition / Stagecoach Two-Disc Special Edition / Fort Apache / She Wore a Yellow Ribbon / The Long Voyage Home / They Were Expendable / 3 Godfathers / The Wings of Eagles)


DVD (Warner Home Video)