She Wore a Yellow Ribbon movie poster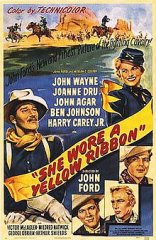 Each month we will highlight an extraordinary original movie poster that was actually used to promote a vintage film from the Golden Era, i.e. 1930-1969. There are few objects that illicit fond memories like an original vintage movie poster from one's childhood or cherished period of time. So this week we feature the John Wayne Classic "She Wore a Yellow Ribbon".
The theatrical poster is considered one of the best renditions of John Wayne and one of the most superbly executed works of vintage movie art. Some consider it a masterpiece of the film art world. Based on our research the artist for this poster's original artwork was Harold von Schmidt, who was an illustrator for Saturday Evening Post.
She Wore a Yellow Ribbon is a 1949 Western film directed by John Ford and starring John Wayne. The film was the second of Ford's trilogy of films focusing on the US Cavalry (and the only one in color); the other two films were Fort Apache (1948) and Rio Grande (1950). With a budget of .6 million, the film was one of the most expensive Westerns of the time, but became a major hit for RKO and remains a popular classic today.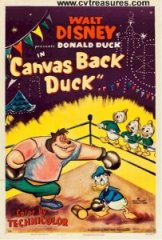 Known for its breathtaking views of Monument Valley located in the Navajo reservation, at the northern edge of Arizona; the cinematographer, Winton Hoch, won the 1950 Academy Award for Best Color Cinematography. Ford and Hoch based much of the film's imagery on the paintings and sculptures of Frederic Remington.
The film is named after a song common in the U.S. military, "She Wore a Yellow Ribbon", which is still used today to keep marching cadence. It is a variant of the song "All Around My Hat"
PLOT:
On the verge of his retirement at Fort Starke, a one-troop cavalry post, the aging US Cavalry Capt. Nathan Cutting Brittles (John Wayne) is given one last patrol, to take his troop and deal with a breakout from the reservation by the Cheyenne and Arapaho following the defeat of George Armstrong Custer.
His task is complicated by being forced at the same time to deliver his commanding officer's wife and niece, Abby Allshard (Mildred Natwick) and Olivia Dandridge (Joanne Dru), to an east-bound stage, and by the need to avoid a new Indian war. His troop officers, 1st Lt. Flint Cohill (John Agar) and 2nd Lt. Ross Pennell (Harry Carey, Jr.) meanwhile vie for the affections of Miss Dandridge while uneasily anticipating the retirement of their captain and mentor. Rounding out the cast are Capt. Brittles' chief scout, Sgt. Tyree (Ben Johnson), a one-time Confederate cavalry officer; his First Sergeant, Quincannon (Victor McLaglen); and Major Allshard (George O'Brien), long-time friend and commanding officer.
After apparently failing in both missions, Capt. Brittles returns with the troop to Fort Starke to retire. His lieutenants continue the mission in the field, joined by Capt. Brittles after "quitting the post and the Army". Unwilling to see more lives needlessly taken, Capt. Brittles takes it upon himself to try to make peace with Chief Pony That Walks (Chief John Big Tree). When that too fails, he devises a risky stratagem to avoid a bloody war by stampeding the Indians' horses out of their camp, forcing the renegades to return to their reservation.
You might also like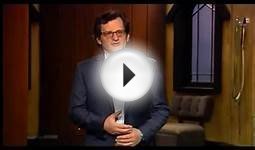 TCM 31 Days of Oscar 2015 Day 7 1of6 She Wore a Yellow ...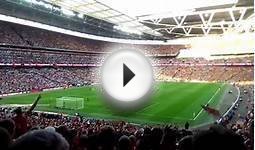 She Wore a Yellow Ribbon - p. 59 Video
She Wore a Yellow Ribbon Movie Poster (27 x 40 Inches - 69cm x 102cm) (1949) -(John Wayne)(Joanne Dru)(John Agar)(Ben Johnson)(Harry Carey Jr.)(Victor McLaglen)
Home (MG Poster)
She Wore a Yellow Ribbon Poster (27 x 40 Inches - 69cm x 102cm)
The Amazon image is how the poster will look; If you see imperfections they will also be in the poster
Full Size Movie Poster; Same Size That You See In The Theater
Size is provided by the manufacturer and may not be exact
Packaged with care and shipped in sturdy reinforced packing material
John Wayne Poster From She Wore a Yellow Ribbon Movie


Home (Home Comforts)




Vintage Movie Posters
Wall Art
Canvas Prints
Modern Art
Art Posters