Columbia University Yellow Ribbon Program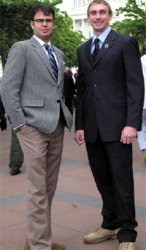 Sean O'Keefe and John McCleland, GS student-veterans, sport their army boots in Washington, D.C., to lobby for the Yellow Ribbon program.
Image credit: Sean O'Keefe
The program, a latter-day GI Bill known as the Yellow Ribbon GI Education Enhancement Program, is part of a new federal initiative and will make participating private institutions like Columbia more accessible to student-veterans. These enhanced benefits were authorized under the Post-9/11 Veterans Educational Assistance Act of 2008 and have the potential to be as significant and influential as the original GI Bill of 1944, which sent millions of World War II veterans to colleges and universities.
"Columbia's participation demonstrates its longstanding appreciation of the military service activities of its students and alumni, " said Elizabeth Hicks, associate vice president of student and administrative services. "The experience and talent brought to campus by student-veterans vastly enhances academic discourse in our classrooms."
Columbia is the first Ivy League institution to participate in the Yellow Ribbon program. More than 100 student-veterans currently study at Columbia, and they will automatically become eligible to take advantage of it. Each Columbia school is still determining how best to implement the plan and how many new students it can admit under the program. Administrative procedures are still being finalized, and more specific information will be made available after June 15.
"Many schools and departments are working diligently to compile the services and expertise necessary to receive the expected increase in veteran enrollment, " said Laurie Schaffler, executive director of student financial services. "Members of the U.S. Military Veterans of Columbia University student group (Mil-Vets) have been instrumental in providing information to us so we can provide the best accommodations possible." The group, founded in 2002, is a non-partisan social group that promotes networking among U.S. veterans on campus.
Indeed, members of MilVets contacted their Congressional representatives to lobby them in person and by mail in support of the Yellow Ribbon program. Sean O'Keefe, a 25-year-old junior at the School of General Studies and a former Green Beret in the Army's Special Forces, will be the MilVets president for the 2009-2010 academic year.
Last summer, he worked with Sen. Dianne Feinstein (D-Calif.) on defense and veteran affairs legislation. "I pushed to get the bill retroactive to help the proportion of the veterans who will be missing out on the bill since they attend school before [the bill] was passed, " he said in an email message.
At General Studies, when the Yellow Ribbon program award is combined with benefits of the Post-9/11 Assistance Act, the entire cost of education for eligible enrolled students would be covered. The scope of benefits provided by the program makes a Columbia education accessible to eligible veterans regardless of socioeconomic status.
What documents can be apostilled/authenticated? -
apostille services
.
You might also like
RAVPower All-In-One FileHub Wireless N Travel Router USB Micro SD SDXC TF Memory Card Reader Card with 6000 mAh portable charger USB Hard drive Flash Mobile Storage Media Sharing for iOS &android devices
Personal Computer (RAVPower)
Media Sharing: transfer photos/movies/music/files between iOS and Android Devices and Desktop/Laptop, between mobile devices and SD Card/USB HDD, and between Micro...
Wirelless Router: instantly convert wired network into Wi-Fi (AP/Router/Bridge)
External battery: built-in 6 mAh power bank (5V/1A) for charging smartphones
Wireless Network: Connect to an existing wifi network, share hotspot access and boost Wi-Fi range
Package Include :1 x RAVPower FileHub[WD02], 1 x USB Charging Cable, 1 x User Manual
[All-in-1] RAVPower FileHub Wireless USB HDD SD card File Media Transferring Sharing Travel Router 6000mAh External Battery Wireless Micro SD TF Card Reader, HDD/USB drive wireless accessing, Wireless Storage For iOS/Android Devices, WLAN Hot Spot & NAS File Server.
Personal Computer (RAVPower)
Media Sharing: transfer photos/movies/music/files between iOS and Android Devices and Desktop/Laptop, between mobile devices and SD Card/USB HDD, and between Micro...
Wirelless Router: instantly convert wired network into Wi-Fi (AP/Router/Bridge)
External battery: built-in 6 mAh power bank (5V/1A) for charging smartphones
Can connect up to 5 devices (Laptop,Mobile Phone,Tablet/PAD,Desktop etc) at the same time
Wireless Storage For Ipad / Iphone5,4s,4 / Samsung Galaxy S4,S3,S2,Tab2,Note2 and All Other IOS/Android Device