Golden Gate University Yellow Ribbon Program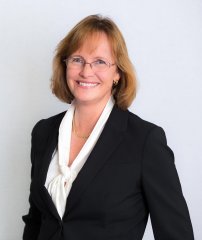 If perseverance, selfless service and a can-do approach to personal growth are Rachel Van Cleave's watchwords – as even brief conversations with the Golden Gate University School of Law dean confirm – then the veterans of the Bay Area and their military values are her touchstones and guides.
"Veterans bring with them a wealth of leadership knowledge, particularly in the face of great adversity, " Van Cleave said in e-mails and a telephone interview. "Through them I've come to recognize that mindfulness, humility and grit are what generate true leadership adaptability. Because of them I'm continually working to apply this lesson in my own small way."
One result? "I've learned that we can't always have the answers, but with the right mindset and an excellent team, we can find some pretty good – maybe even very good – solutions, " she said.
That she has such a team in her faculty, staff and advisers, she said, enables her to see what are arguably troubled times for law schools including Golden Gate as a "transformative opportunity for legal education that can only benefit students."
For Van Cleave, it has already become a transformative opportunity for veterans. She established the Veterans Coalition of Northern California, which brought to campus veterans enrolled at area law schools as far north as the University of California-Davis to coordinate their efforts in giving back to less fortunate comrades. She then championed a veterans' law clinic at Golden Gate, the first of its kind in the Bay Area.
It was an outgrowth, she said, of the loss of her classmate and friend Christopher Stevens, U.S. Ambassador to Libya, who died in the attack on the American consulate in Benghazi. That kind of sacrifice, she said, demands recognition and repayment.
A graduate of Stanford University with a B.A. in history, Van Cleave earned her J.D. at the University of California, Hastings College of Law and her JSM (Master of the Science of Law) at Stanford Law School. As a Fulbright Scholar, she studied changes to the Italian criminal justice system and, later, reforms in Italy's rape laws.
Van Cleave has been a Golden Gate law professor since 2004. She became associate dean of academic affairs in 2008 and interim dean in 2012 when she led curricular reform that more broadly integrated legal research and writing with real-world applications and needs.
With time out for a clerkship at Baker & McKenzie and then as a federal clerk for former Fifth Circuit U.S. Court of Appeals Judge Sam Johnson in Austin, Texas, Van Cleave has spent her career in legal academia. "It's where I always wanted to be, " she said, "and what I love to do."
You might also like
RAVPower All-In-One FileHub Wireless N Travel Router USB Micro SD SDXC TF Memory Card Reader Card with 6000 mAh portable charger USB Hard drive Flash Mobile Storage Media Sharing for iOS &android devices
Personal Computer (RAVPower)
Media Sharing: transfer photos/movies/music/files between iOS and Android Devices and Desktop/Laptop, between mobile devices and SD Card/USB HDD, and between Micro...
Wirelless Router: instantly convert wired network into Wi-Fi (AP/Router/Bridge)
External battery: built-in 6 mAh power bank (5V/1A) for charging smartphones
Wireless Network: Connect to an existing wifi network, share hotspot access and boost Wi-Fi range
Package Include :1 x RAVPower FileHub[WD02], 1 x USB Charging Cable, 1 x User Manual
[All-in-1] RAVPower FileHub Wireless USB HDD SD card File Media Transferring Sharing Travel Router 6000mAh External Battery Wireless Micro SD TF Card Reader, HDD/USB drive wireless accessing, Wireless Storage For iOS/Android Devices, WLAN Hot Spot & NAS File Server.
Personal Computer (RAVPower)
Media Sharing: transfer photos/movies/music/files between iOS and Android Devices and Desktop/Laptop, between mobile devices and SD Card/USB HDD, and between Micro...
Wirelless Router: instantly convert wired network into Wi-Fi (AP/Router/Bridge)
External battery: built-in 6 mAh power bank (5V/1A) for charging smartphones
Can connect up to 5 devices (Laptop,Mobile Phone,Tablet/PAD,Desktop etc) at the same time
Wireless Storage For Ipad / Iphone5,4s,4 / Samsung Galaxy S4,S3,S2,Tab2,Note2 and All Other IOS/Android Device