Yellow Ribbon Ceremonies Army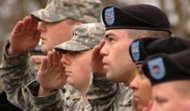 Salem, Ore. – The Oregon Army National Guard is scheduled to hold a demobilization ceremony for Soldiers with the 3 Battalion, 116 Cavalry.
The ceremony is scheduled to be held at the Community Stadium, Eastern Oregon University in La Grande, Ore., Oct. 8, at 2:00 p.m.
U.S. Congressman Greg Walden, Oregon Governor John Kitzhaber and Maj. Gen. Raymond F. Rees, Adjutant General, Oregon are scheduled to attend the ceremony.
The ceremony is also scheduled to include a change of command. Lt. Col. Phillip Appleton will relinquish command of the unit to Maj. Jason Lambert.
The Citizen-Soldiers of the 3/116 CAV conducted more than 1, 800 patrols totaling more than three million miles traveled. During this time the unit's maintenance group serviced more than 300 Mine Resistant Ambush Protected vehicles.
Family, friends, military supporters and media are invited to attend the event.
The address is; One University Boulevard, La Grande, OR, 97850.
For more information contact Capt. Stephen Bomar, Oregon Military Department Public Affairs, 503-584-3885.
You might also like
Your Daughter / My Daughter U.S. Military - Army - Navy (8-1/2" x 2-1/2") Die Cut Decal / Bumper Sticker for Windows, Cars, Trucks, Laptops, Etc.


Automotive Parts and Accessories (Diamond Graphics)




Die cut from quality 6+ year material - designed for exterior application
Can be applied to most smooth clean surfaces - windows, cars, lockers, laptops - you name it!
Size is approximately 8-1/2 X 2-1/2
Complete application instructions included for easy, professional results
Clear transfer tape for easy application