Yellow Ribbon Suicide Walk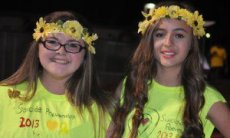 The 6th Annual Yellow Ribbon Suicide Prevention Walk for Life will take place at the Ramona High School football field on Saturday, Oct. 25, from 4 to 7 p.m. Registration will begin at 3:30 p.m.
There is no registration fee to participate in the walk. It is a free event.
The community event is to raise awareness about suicide prevention and issues contributing to the mental health of youth. Proceeds from the event will provide programs in the Ramona Unified School District that address bullying, mental health issues, stress reduction and team building among students.
The event will include the Navy Junior Reserve Officers Training Corps (NJROTC) color guard, guest speakers, local singers Olivia Jensen and Rhianna Wilson, a local rock band, Zumba instruction, and more.
Organizations providing information and resources will include Palomar Health, North County Health Services, North Inland Community Prevention Program, Vista Hill SmartCare, Peer2Peer, Alateen, Ramona Sheriff's Department, and Ramona Fire Department.
Food and drinks will be available for purchase, and there will be face painting.
The reflection area will allow participants to write messages of hope and to post pictures and poems on the
2013 Yellow Ribbon Suicide Prevention Walk for Life participants. File photo
2013 Yellow Ribbon Suicide Prevention Walk for Life participants. File photo
Memory Wall. Walkers will be able to decorate bags with written messages for memory tea light bags that will light the football field at sunset.
Memory beads of different colors will be available to wear that represent various issues experienced personally about suicide.
"Our goal is to provide resources and training in our community for youth and their families, to reduce the risk of losing another child to the tragedy of suicide, " said Nancy Roy, community outreach liaison at Palomar Health and Ramona resident serving on the event organizing committee.
In the United States a person dies by suicide every 15 minutes, claiming approximately 35, 000 lives each year. From 2000-09, suicide took the lives of 3, 361 in the county.
Among 5- to 14-year-olds, suicide is the fifth leading cause of death. Among 15- to 24-year-olds, suicide is the third leading cause of death. The fastest-growing group completing suicide is children between the ages of 10 and 14. This rate has doubled in the past two decades.
You might also like
Yellow Ribbon Awareness Stickers (250 Ct)


Art and Craft Supply (Your Wholesale Source)




Yellow Ribbon Awareness Stickers
Measures: 3 inches tall by 1 1/2 inches wide
One brand new roll of 250 stickers
Yellow Ribbon Stickers - Large Ribbon (250 Stickers)


Toy (Fundraising For A Cause)




Yellow Ribbon Stickers (1 Roll)
Measures: 3 inches
250 stickers per roll
Support our Troops Ribbon Yellow Black 2" Scrapbooking Crafting Stickers


Art and Craft Supply (Graphics and More)




Great for scrapbooks, crafts, parties, teachers and more
Includes 18 2 matte finish round stickers
Repositionable and removable
Made in the USA

Cancer Awareness Ribbons Stickers (200 Pieces)


Toy (FX)




200 Cancer Awareness Ribbons Stickers
2 Rolls (100 stickers per roll, shrink-wrapped)
Assorted Styles

Yellow Support Our Troops Ribbon Magnet


Automotive Parts and Accessories (Magnet America)




Made in the USA
Perfect for your vehicle, refrigerator, or other magnetic surface!
High quality 30 mil magnetic material
Dimensions: 3.875 x 8