Tie Yellow Ribbon on the Oak Tree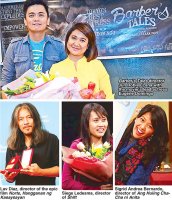 Tony Orlando is coming for concert on Wednesday, July 9, at the Newport Performing Arts Theater of Resorts World Manila (RWM), produced by Ovation Productions with The Philippine STAR among the sponsors. (Ticket prices are P13, 100, P11, 100, P9, 100, P7, 100 and P5, 100. Call RWM box office 908-8000 local 7700.)
Besides Tie A Yellow Ribbon Round The Ole Oak Tree ("The yellow ribbon is a symbol of homecoming and hope, " according to Orlando), fans will be thrilled to listen once again sung "live" such TO hits as Candida, Knock Three Times, Will You Still Love Me Tomorrow, Save The Last Dance, Stand By Me and many more.
Funfare did an exclusive e-mail interview with Orlando, Excerpts:
You were CBS Records' vice president running the careers of artists in the '70s then you suddenly became a recording artist yourself. Whose idea was it to change direction?
"I was first a recording artist at the age of 16 and recorded Halfway to Paradise, written by Carole King and Gerry Goffin, and Bless You, written by Cynthia Weil and Barry Mann. Those two songs were their first No. 1 hits. There is a Broadway show, Beautiful: The Carole King Musical, and the song list includes the pop classics King wrote with Goffin and their friendship with contemporaries Mann and Weil.
"In 1966, I was hired by Clive Davis as the GM and vice president in charge of music publishing for April-Blackwood Music and CBS Music where I remained until 1970. I recorded Candida for a friend, becoming Tony Orlando and Dawn and the rest is history. I never worked for CBS Records."
Entertainment ( Article MRec ), pagematch: 1, sectionmatch: 1
Tie A Yellow Ribbon particularly talks about a man coming home after serving time in prison. It is used as a theme that generally means "welcome home." Have you heard of a celebrated case or an incident that got media attention where somebody went home that involved using that song?
"The yellow ribbon is a symbol of homecoming and hope, used to welcome home POWs (Prisoners of Wars) from Laos, Cambodia and Vietnam, the hostages from Iran and the troops from Desert Storm. It was the theme song for the homecoming of a Filipino (former Sen. Ninoy Aquino). Yellow ribbons were recently displayed for a young kidnapped girl and the three Israeli teenage boys."