Tie Yellow Ribbon Oak Tree lyrics
I'm back on inspiration ideas this morning - yesterday I had no idea what to make for today's blog post but then a very old song came on the radio and inspiration struck! The song was "Tie a Yellow Ribbon" by Tony Orlando and the lyrics go thus:
Tie a yellow ribbon `round the ole oak tree,
It's been three long years, do ya still want me?
If I don't see a ribbon, round the ole oak tree,
I'll stay on the bus, forget about us, put the blame on me
If I don't see a ribbon `round the ole oak tree.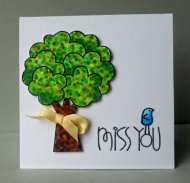 I love the big fat tree in this set and it could so be a 'big ole oak' so I knew I could add my yellow ribbon around it if I simply coloured it in and fussy cut it out so I could mount it on my card with foam tape. I decided to use pointillism to colour the tree for a change so just set about adding lots of coloured dots with my copics - if you've never tried this technique it's fun but at first it looks awful and you think it will never come together - here's how mine looked to begin with - start with your palest shade all over to get rid of the white and the just randomly add dots and then keep going until you like it!
News from the store this week:
We had a mini delivery from Neat and Tangled yesterday so if you've been waiting for the "Hope Anchors" set - it's here!
Mama Elephant restocks (including Up and Away, Pandemonium and Landscape Trio Dies) and the whole of their latest release are currently in customs clearance and should be in store in a few days.
Lawn Fawn restocks have just shipped so will be here mid-July.
Paper Smooches latest release (which hasn't been shown yet) is en-route already and there are some amazing dies you are all going to LOVE!
Also, next weekend is my wedding anniversary so we are going away for a long weekend. As such, any orders received after 8pm on Thursday 3rd July won't ship until Tuesday 8th July. The store will remain open but orders won't ship as quickly as normal.