Dog with Yellow Ribbon on leash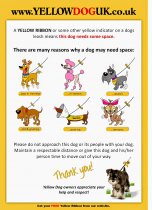 The Yellow Dog Project is a world-wide project to create awareness that some dogs need space. They might need space for a variety of reasons.
Some dogs wear yellow collars and/or leads like Nan the Ham, an FBRN grad:
Or you can buy yellow vests for your dog:
You may see dogs with yellow ribbons tied to their leashes:
And crafty people have found ways to make yellow covers for their collars and leashes:
Whatever you do, if you choose to put a yellow ribbon on your dog, be sure it's visible, or you may defeat the purpose. This yellow ribbon may be too small to see from a half block away.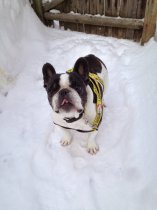 Remember, you are asking other dog owners to give you time to get out of the way, but they must be able to see the ribbon in plenty of time to do that.
This ribbon might be too small to be seen at a distance
If you don't have a dog who needs a yellow ribbon, remember the essentials of dog-walking etiquette:
Especially keep in mind that not all dogs are as friendly as yours, and you may be setting your dog up for serious injuries if a dog who needs space feels trapped or endangered. Many dogs do not respond well when they are on a lead and an unleashed dog runs up to them. The leashed dog has nowhere to go and can't escape. Imagine how you'd feel if you were in an elevator and someone came running in and started assaulting you.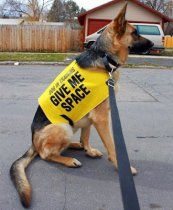 You might fight back. For many dogs, being leashed in the company of an unleashed dog puts them in a one-down position, and if they are already feeling vulnerable because of an injury or illness or old age, the assault by an unleashed dog might make them bite in self-defense.
Dogs who need space are not bad dogs. But just as people have different personalities, dogs have different personalities, and some dogs need space during different times in their lives. Think twice before judging and grumbling about yellow dogs. Some day your dog might need a yellow ribbon on his lead!
If you see a dog with a yellow vest, collar, lead, or ribbon, be sure to make a special effort to control your dog and/or give the yellow-ribbon dog a chance to cross the street or turn a corner or otherwise pass you quietly by. It's the kind thing to do.
You might also like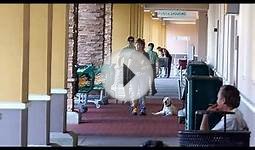 Labrador Training Yellow Lab STELLA Off Leash Dog Training
What to do if you see a dog wearing a yellow bow on its leash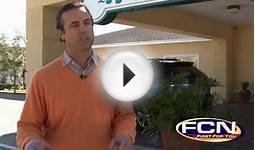 New dog trend called the Yellow Ribbon Project aims to ...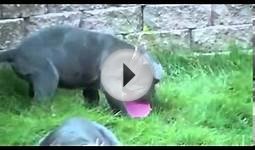 Yellow ribbon male
Blueberry Pet 3/8-Inch Basic Polyester Nylon Collar Lead Harness for Dog, X-Small, Pink Flamingo on Light Emerald


Pet Products (Blueberry Pet)




X-Small Width 3/8 , Neck 6-10
Made of a tough grosgrain ribbon sewn on to a high density gold yellow nylon webbing
This collar is a single product. However, it comes with matching leash/harness to complete the look. Leash and harness sold separately
Picture was taken from a size Medium (Width 3/4 , Neck 14-20 )
NCAA Georgia Tech Yellow Jackets Dog Leash (Team Color, Large)


Sports (All Star Dogs)




OFFICIALLY LICENSED NCAA PET LEASH
CHOOSE THE SIZE THAT IS RIGHT FOR YOUR DOG
PROUDLY MADE IN THE USA
4 FOOT OR 6 FOOT LENGTH
Officially licensed dog leash features subliminated ribbon and continuous team logos on top of firm webbing and hardware. Let your pooch show their team spirit!
Blueberry Pet Dog Collar Leash Harness Gold Cross Print 3/4" Medium Basic Polyester Nylon Dog Collar


Pet Products (Blueberry Pet)




Medium Width 3/4 , Neck 14.5-20
Made of a tough grosgrain ribbon sewn on to a high density gold yellow nylon webbing
Those buckles are made from ecofriendly plastic
This collar is a single product. However, it comes with matching leash/harness to complete the look. Leash and harness sold separately
Picture was taken from a size Medium (Width 3/4 , Neck 14.5-20 )

Blueberry Pet Step-in Harnesses For Dog Gold Cross Print No Pull Dog Harness Adjustable , Nylon 5/8" Small


Pet Products (Blueberry Pet)




Size: Small Width 5/8 , Girth 15.5-19.5 , Chest Strap 4.5
The timeless cool cross patterns printed on the gold yellow webbing. Great for smaller dogs and larger breeds
Made of a tough grosgrain ribbon sewn on to a high density gold yellow nylon webbing
This harness is a single product. However, it comes with matching collar/leash to complete the look. Collar and leash sold separately.
The chest strap is not adjustable

Blueberry Pet 3/4-Inch Spring Scent Inspired Floral Rose Basic Polyester Nylon Dog Collar, Medium, Baby Pink


Pet Products (Blueberry Pet)




Medium Width 3/4 , Neck 14-20
Made of a tough grosgrain ribbon sewn on to a high density gold yellow nylon webbing
This collar is a single product. However, it comes with matching leash/harness to complete the look. Leash and harness sold separately
Picture was taken from a size Medium (Width 3/4 , Neck 14-20 )